Ankorstart's guest blog with "The Pop Up Shop Agents" who share some advice on how to open your own pop up shop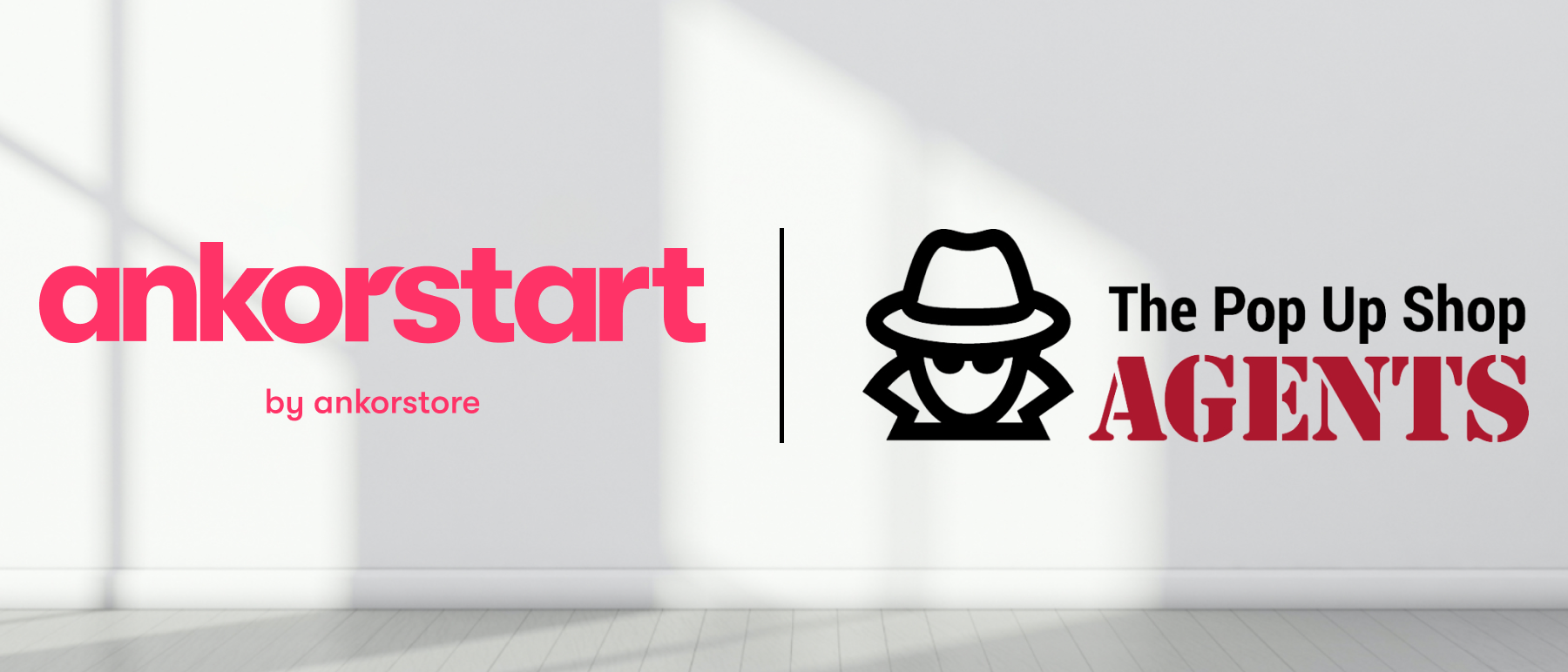 With so many vacant units on the high streets, and so many small businesses looking to showcase to their local and not-so-local audiences, you could be forgiven for thinking the supply and demand is fairly evenly balanced. Unfortunately, with many commercial landlords still seeking ten year leases, and the rise in cost of living coupled with business rates, things are still tough down at grass roots level.
To get a better understanding on what to consider when opening a pop up shop, Ankorstart partner "The Pop Up Shop Agents" share some advice and points of attention.
Summary:
Location
When looking for a perfect bricks and mortar pop up shop you should start by choosing the location.
You can stroll around your local area, Google opportunities on the web, or check out a listings provider such as The Pop Up Shop Agents.
Geography is very important. Where do your customers live? Who passes through the area you are considering? Can you get a footfall counter for the area you are considering?
Seasonal fluctuations
Seasonal fluctuation means a change in shopping and traffic habits, so decide whether your pop up shop will take advantage of this. Is Christmas a good time to sell your product? If you are launching a swimwear collection, possibly not, but a festive homewares collection or products suitable for gifting, and you could be onto a winner.
Consider how you will get stock to your pop up shop, whether there is parking for you and your customers, and if you need to contact your local authority to get any permissions. It may initially seem like a great idea to be on the most exclusive street, in the most exclusive area, but be aware if your customers don't shop there, you will be unlikely to be able to make the most of your pop up opportunity.
Budget
Whether you are launching a brand new retail business, a new product, or simply testing the high street, you are unlikely to make a huge profit from a one off pop up. This is an opportunity for marketing, research, consumer feedback and PR, so keep within budget, and consider your goals and other benefits associated with your pop up shop.
Bills
This includes rental and any local rates payable. Are you liable for utilities? Check your contract carefully and negotiate on terms if you feel confident, or get your legal professionals to do this for you.
Staff
If you need to hire staff, or an events company to provide a launch event, source the best within your financial constraints. Make sure you brief staff, so they know your business history, are knowledgeable on individual products and can assist customers in a friendly and welcoming manner. The reputation of your business will be judged by frontline staff initially, so choose wisely.
Payment
Will you be taking cards or cash? Who will be in charge of this, and which provider will you use? Check your refund policy is clearly stated, both on your website and physically in your pop up.
Insurance
You must have Public Liability Insurance for your pop up, and depending on your offering you may consider further cover, such as Professional Indemnity, if you are also offering a service.
Ready to open your store?
Stock
Do you have enough stock for the duration of your pop up? You will need more stock than you think for displays and visual merchandising, plus additional items to sell and restock. For clothing, you need to provide a good range of sizes and colours, and for larger items, such as artwork, or bespoke furniture, you may wish to provide a home delivery service.
Hybrid Selling
Ensure your website is up to date, showing in stock items, and reflecting the professional look and branding of your pop up shop. Customers drawn in to your high street launch may well see a product or item they like, and later buy via your website, so try to ensure you are utilising both your bricks and mortar shop window, and your virtual shop window.
Social Media
Tell your customers about your pop up journey. Detail your pop up and pop down, and offer discounts and gift bags while building a rapport.
How can the Popup shop agents support you?
When looking for a pop up shop it is well worth considering a shop share. The Pop Up Shop Agents list like-minded communities who already have the premises, and are looking for businesses to share space.
This is also a great option if you are short on time, with other commitments that prevent you from being present in the pop up, or this is a brand new venture and you have a very tight budget and no experience. You can rent shelves, wall space, counter space and shop space etc. Being part of a group means extra promotion too.
Taking a sole space means sole responsibility, but by joining together, everything including the cost, is shared.
For more information on listings and shop shares sign up to The Pop Up Shop Agents monthly newsletter.